Rot-free & virtually unbreakable
Made of super strong hanit®, Foundation Pads are 100% recycled plastic, re-useable, weatherproof, lightweight and ideal for supporting or leveling shipping containers, temporary offices, mobile homes and other structures.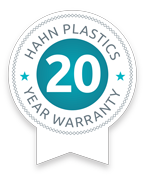 Contact Us
We manufacture for a global network of suppliers. Tell us your basic location and we'll reply with pricing/suppliers near you.
HAHN Plastics catalogs and brochures​
More than 2000 products made of 100% recycled plastic. Made in Germany, UK and Canada.